Balto
Talk

0
68pages on
this wiki
Balto is the main character in
Balto
and its sequels
Wolf Quest
and
Wings of Change
. He is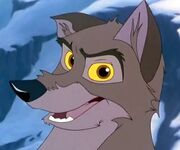 voiced by Kevin Bacon and Maurice LaMarche. Balto is based on
the real dog of the same name.
Appearance
Edit
Balto is brown-grey in colour,patched with white.He has brown eyes and big paws.Balto is average-built,he is not muscular nor scrawny,but he has a slightly unkempt appearance.
Personality
Edit
Balto is brave but not a very good fighter(as Steele flings him against a rock with ease)but will not hesitate to save his friends.He is also very selfless and modest,although having a fragile pride(such as snarling when Steele insults him or saying in Balto:Wolf Quest that other dogs still tease him just because he is half wolf.)Balto is also very sensitive about his half-wolf heritage in the first movie,but gradually comes to accept it.
Although Balto is modest in most movies,he is shown to be quite arrogant in Balto II - Wolf Quest,as he says "Some people still tease me just because I'm half wolf." and orders al the wolves from Nava's pack around.
History
[1][2]Balto hauls the antitoxin crate back up the mounatin.It was revealed in the first film that Balto is a wolfdog (half husky, half wolf). He was separated from his mother (who was a wolf) at a young age, and was taken in by Boris the snow goose. Balto seems to be embarrassed about his wolf heritage.
After watching a dog sled race, Balto begins to return home, but is stopped by Steele, a purebred sled dog and leader of the winning team. Steele teases Balto about is wolf heritage, hurting his feelings.
A few nights later, Balto decideds to "make a move" on Jenna, a very pretty, purebred husky. Despite liking Balto, Jenna is distracted - her owner, Rosy, is in hospital with diphtheria. Knowing that Rosy is running out of time, Balto decides to enter the race that will select the fastest dogs to pick up the life-saving antitoxin from Nenana.
The race is held the following day. Balto wins the race easily, but is rejected by the musher because of his part wolf status (the musher assumed that he was aggressive). The team is selected, with Steele as the lead dog, and they set off for Nenana.
A message comes through that the team has become lost on their way back to Nome. Balto, along with Boris, Muk and Luk, decide to go and find the sled team. Jenna follows, but is injured in a fight with a grizzly bear, forcing Balto to go alone. When he finds the team, Steele refuses to let him help. Steele fights Balto, but falls of a ledge. Balto harnesses up to lead the dogs to safety, but he himself loses the trail on the way back. Balto realises that Steele has purposely made the team lose their trail, but Balto remembers which way he came and leads the team home. Balto is declared a hero, much like in the true story.
In Balto II: Wolf QuestEdit
[3][4]Balto and Aleu in Wolf Quest. In the second film, Balto is troubled by a series of strange dream involving a raven and a pack of wolves. In the meantime, Balto and Jenna become parents, and all but one pup, Aleu, are adopted out to good homes. When Aleu asked Balto why she wasn't adopted, Balto is forced to explain that she looks more like a wolf than a dog. Aleu runs off.Balto sets off to find Aleu. He encounters the raven from his dreams, following it farther into the woods. On the way, he encounters the totem animals — a fox, the wolverines, a grizzly bear, and finally, the wolf pack, lead by and elderly wolf named Nava. He catches up to Aleu, but she insists that the "needs to find out who she really is".The pair meet up with the wolf pack and learn that their main food source, the caribou, have crossed the water. Balto begins to lead the pack across the water, but Aleu stops him. She says that it is her destiny. Balto says a sad goodbye to his daughter as she leads the pack away.It is revealed at the end of the film that the totem animals are in fact the spirit of Balto's mother, Aniu, the white wolf.
In Balto III: Wings of ChangeEdit
[5][6]Balto pulls Duke across the ice bridge.In Wings of Change, Balto develops a passion for flying. He takes Jenna to the top of a mountain and makes her wait for a bush plane to fly over. When it does, Balto chases it down the mountain, but it beats him by a long shot. When Balto and Jenna return back to town, Balto is surprised to see that the plane is there. He walks up to the plane, and is greeted the by the pilot, Duke.
A few days later, it comes to the dogs' attentions that the bush plane may be a new way of transporting the mail between Nome and White Mountain. Duke proposes a race against the mail dogs, of which Balto's son, Kodi, is one of. The dogs chose Balto to be the lead dog.
Balto successfully leads the dog team to White Mountain and back, and upon their return, learns that they have won the race. While all the other dogs celebrate, Balto is worried about Duke. He learns from Muk and Luk that the bush plane had crashed, and that Boris was on board. He sets off with Muk, Luk and Boris' newly aquainted "girlfreind", Stella for Bear Rock, where the bears had reported the plane to have crashed.
When Balto finds the plane, Boris and Duke are still alive. Muk, Luk and Stella take Boris home while Balto pulls Duke from the plane wreck. Duke harnesses Balto to a piece of steel from the plane so Balto can pull it like a sled. All goes well until a bridge that Balto is crossing breaks under his feet. Balto and Duke begin to fall off the cliff, but they are rescued by Kodi and the other mail dogs — Kirby, Dusty and Ralph. The five dogs continue the journey home, and are praised as heroes upon their reuturn.
Duke recieves a new bush plane, and names it Balto Flyer after the dog that rescued him. As a thank you present, Duke takes Balto for a spin in the sky.
Despite Balto being half wolf, half husky, the real Balto was a purebred Siberian husky
Balto is shown to have claws in some scenes (for example, when he is climbing), but no claws the rest of the time. Real dogs do not have retractable claws.
People were thinking of a 4th movie for Balto, including his full-blooded wolf cousin Tecumseh. But that be came just an idea and never became a film.